Versatile and responsible summer work at Vexve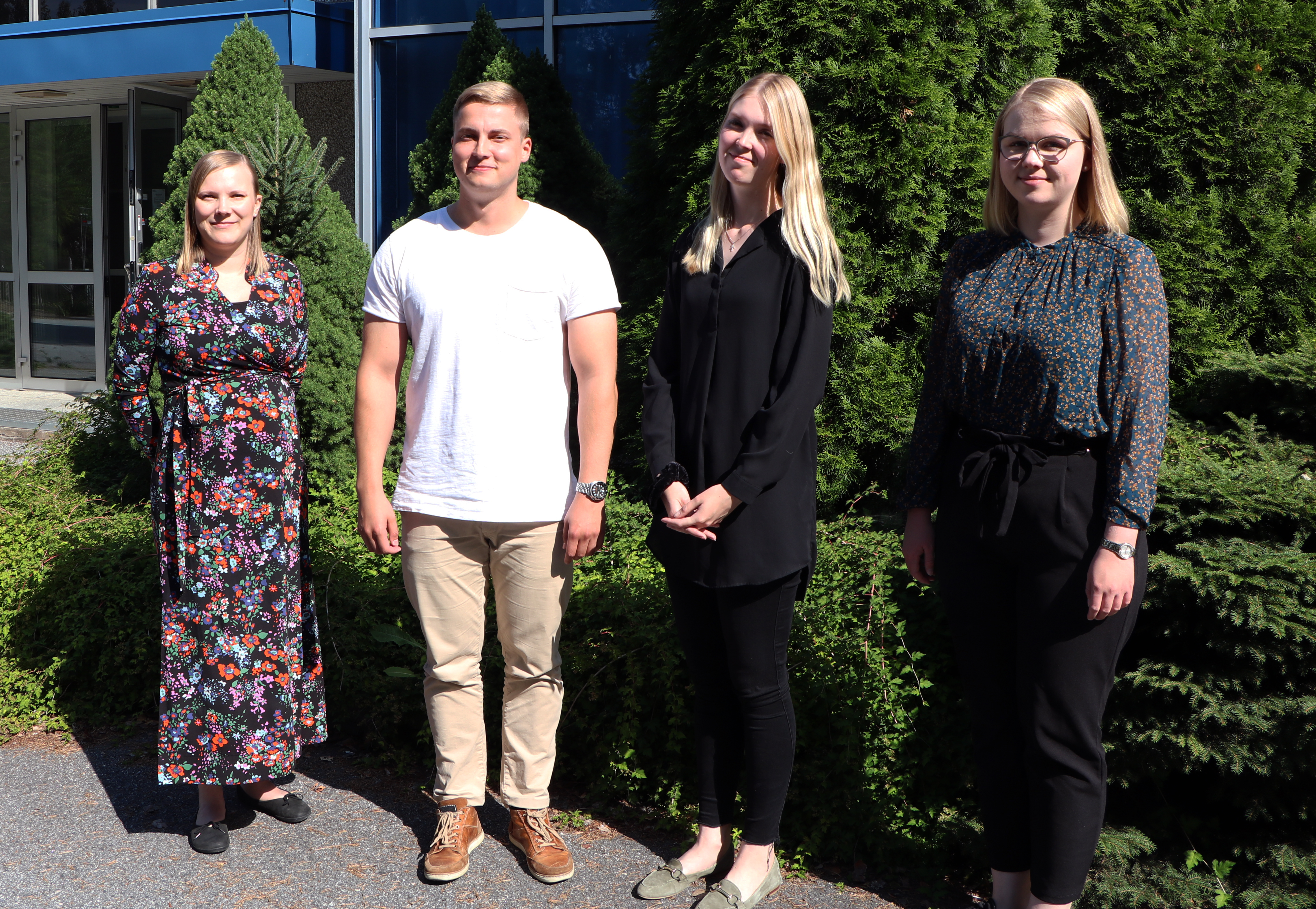 In the picture starting from the left: Customer Service, Communications and Marketing Manager Maija Lehtinen and Customer Service Coordinators Jesse Ahonen, Eeva-Roosa Niiniaho and Anni Eskola
Vexve employs every summer tens of summer workers for white-collar worker tasks and production-side tasks. Despite the exceptional situation in summer 2020, several summer employees worked at Vexve in various departments. Below you can read the experiences of our summer workers.
"My summer job at Vexve started back in the spring of 2019 when I noticed a recruitment announcement from a familiar company on a job search page recommended by a teacher. I knew the company already because I have born and lived in Sastamala. Summer 2020 differed from the previous summer because of the remote working. Despite the circumstances, working was successful. The best thing about Vexve is that Vexve has a low organizational structure, which enables smooth working with everyone."
Jesse Ahonen, Customer Service Coordinator
"I heard about Vexve through a fellow student and decided to apply for a summer job because the work seemed interesting. The best thing about Vexve has been learning a variety of things. Summer 2020 will be remembered for the exceptional situation, but the actual customer service work was not affected by remote working, and during the summer my colleagues gradually became familiar."
Eeva-Roosa Niiniaho, Customer Service Coordinator
"I applied for a summer job at Vexve because I was interested in the internationality and versatility of the work. It was great that I had an opportunity to tailor the job description to my own skills and studies. The versatility of the work surprised me positively. At Vexve, summer employees really get to be part of the team and the work atmosphere is great."
Anni Eskola, Customer Service Coordinator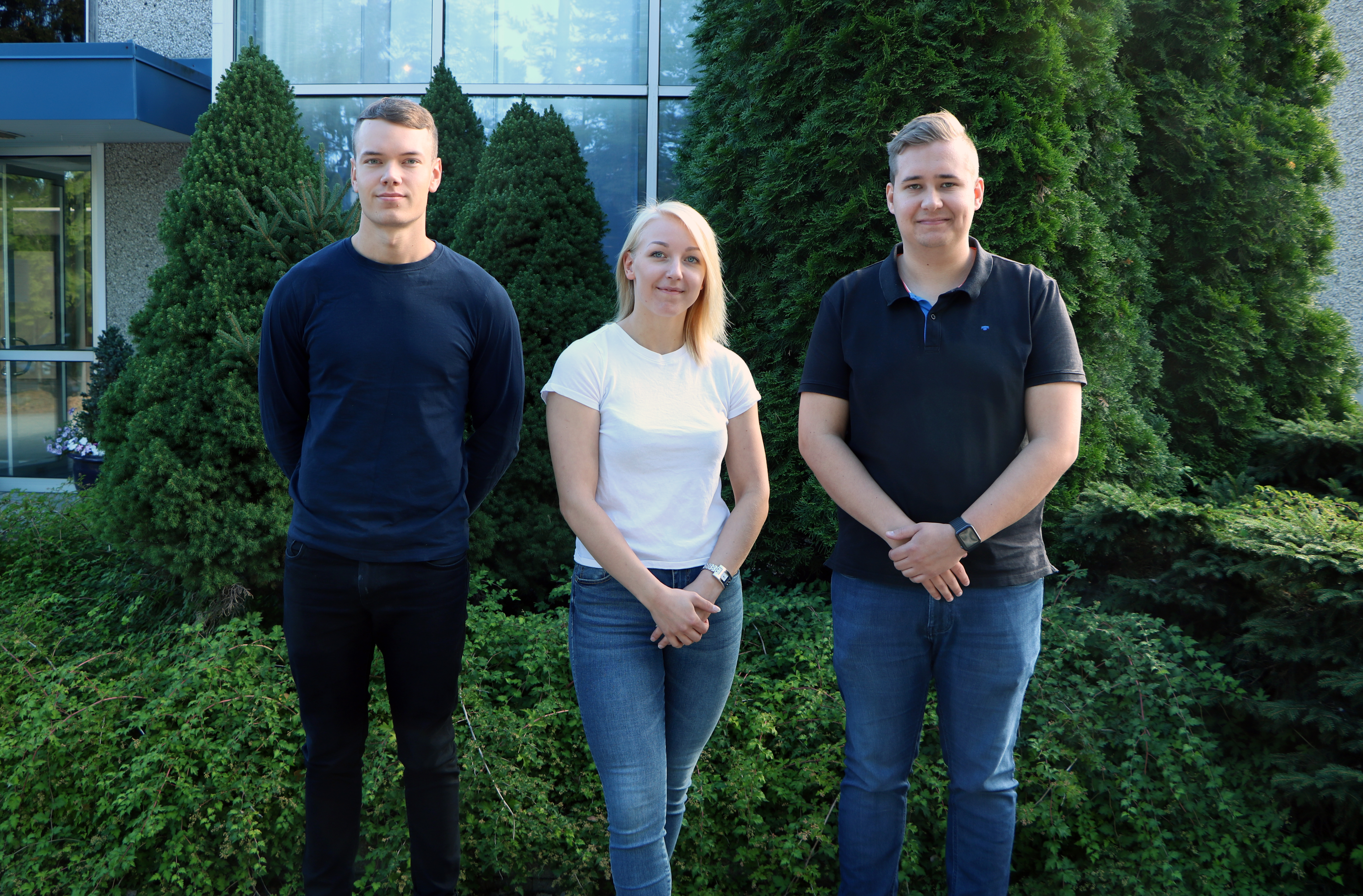 In the picture starting from the left: Production Supervisor Jani Hyrkäs, Sourcing Assistant Anna Tuominen and Financial Assistant Juho Vahala 
"I came across Vexve's summer jobs at a summer recruitment event in TAMK. Vexve offered several summer jobs suitable for my studies in mechanical engineering and they attracted my interest to apply for the position of production supervisor. As a positive surprise, I found that Vexve has a good chance of progressing internally from one task to another. Talking to many employees about their careers at Vexve revealed that they have worked in several positions within the company. The best thing about Vexve was the working atmosphere. It was nice to come to work when you get to work with nice people."
Jani Hyrkäs, Production Supervisor
"From the student's point of view, this is exactly what summer work should be like. Instead of routine jobs, I got a lot of responsibility and challenging assignments. I learned many things for the future which cannot be learned in school. I saw the whole supply chain in the sourcing department, which was interesting and taught me to look at things on a larger scale. A big thank you to Vexve for the trust I got!"
Anna Tuominen, Sourcing Assistant
"I applied to Vexve for a summer job because I became interested in the company, and the job as well as the industry seemed interesting. When working in the finance department, you get to know almost all the company's departments in different ways. I was positively surprised at how international Vexve is. During the summer, I was in contact with several different countries and continents on business matters. The best thing about Vexve is the excellent team spirit and the can-do attitude!"
Juho Vahala, Financial Assistant
If you are interested in a versatile job in an international growth company, send us an application for an internship or vacancy via the open application.