---
District heating companies reinforce the attractiveness of municipalities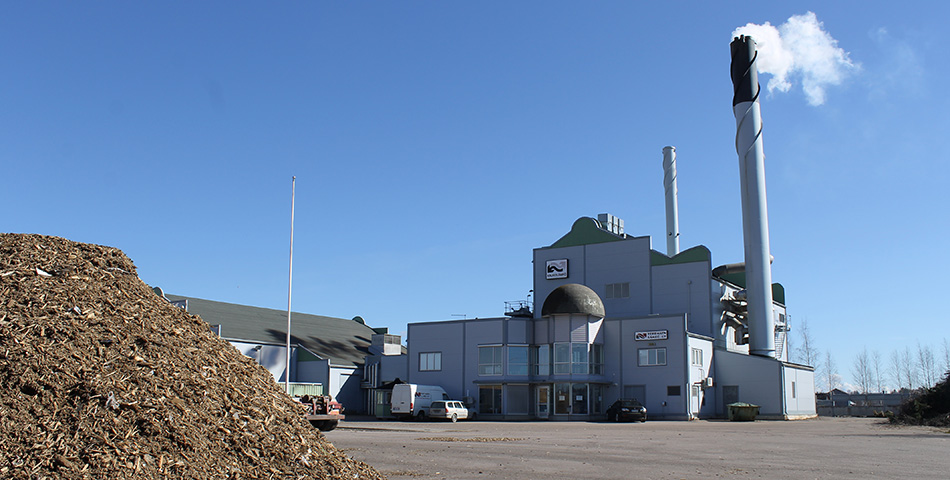 In addition to offering resource-efficient and environmentally friendly heating, local district heating companies play an important role in Finland in strengthening the attractiveness of municipalities. Vexve's long-time customer and partner, Kokemäen Lämpö, has contributed to the development of the region's circular economy, created innovative production technology and attracted industry to the area.
In Finland, district heating is an essential part of the environment-friendly urban energy infrastructure. The reliability of district heating is 99.98% and it is already heating 46% of Finnish homes according to a 2016 study by the Energy Industry Association. The role of district heating companies in Finland is not restricted just to energy production and distribution, but they also have a significant impact on the viability of the regions.
One such company is Kokemäen Lämpö, which for almost four decades has served local residents and businesses. The company, in western Finland, provides district heating production along with services related to fuel production, processing and storage. In addition, Kokemäen Lämpö has been developing innovative district heating production technology, supporting the region's circular economy and making long-term efforts to attract industry to the area.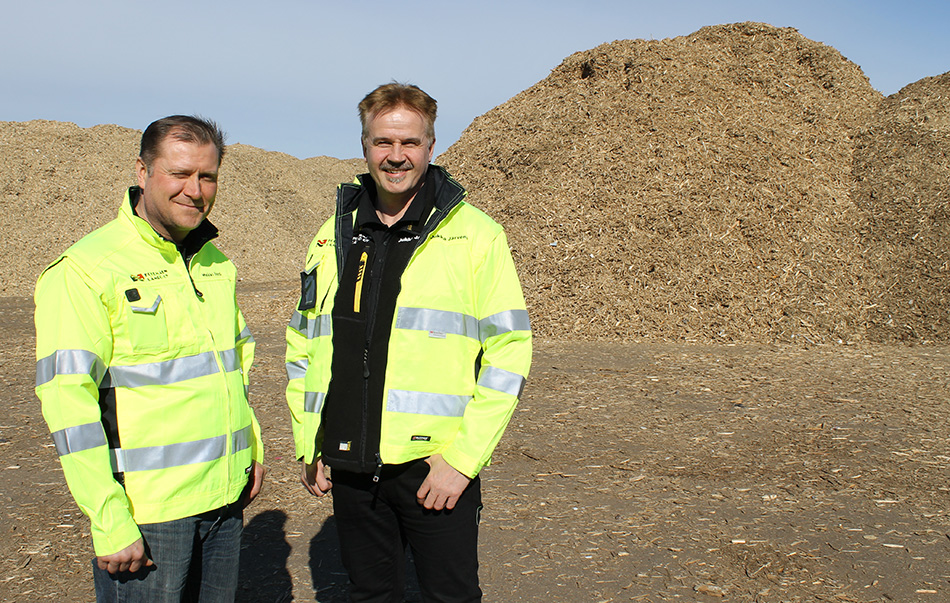 Heat and expertise close by. The majority of Kokemäen Lämpö's biofuel comes from neighbouring areas. Kokemäen Lämpö production manager Heikki Veko (left) and managing director Jukka Järvenpää (right).
The district heating company in promoting the circular economy model
Kokemäen Lämpö generates district heating energy for Kokemäki's urban residents, business and industry, mainly utilizing domestic and local fuels efficiently and environmentally. The heart of the district heating plant is its own crusher, capable of crushing up to 100 tons of wood per hour.
All combustible materials from the nearby area are freely accepted by the plant. In the spring, nearby residents bring up to 50 trailer loads of gardening waste per day to the energy plant's yard. Kokemäen Lämpö also arranges free local pickup for at least 30m³ with its own equipment. Consequently, a significant part of the district heating company's fuel is wood recycled from the nearby area.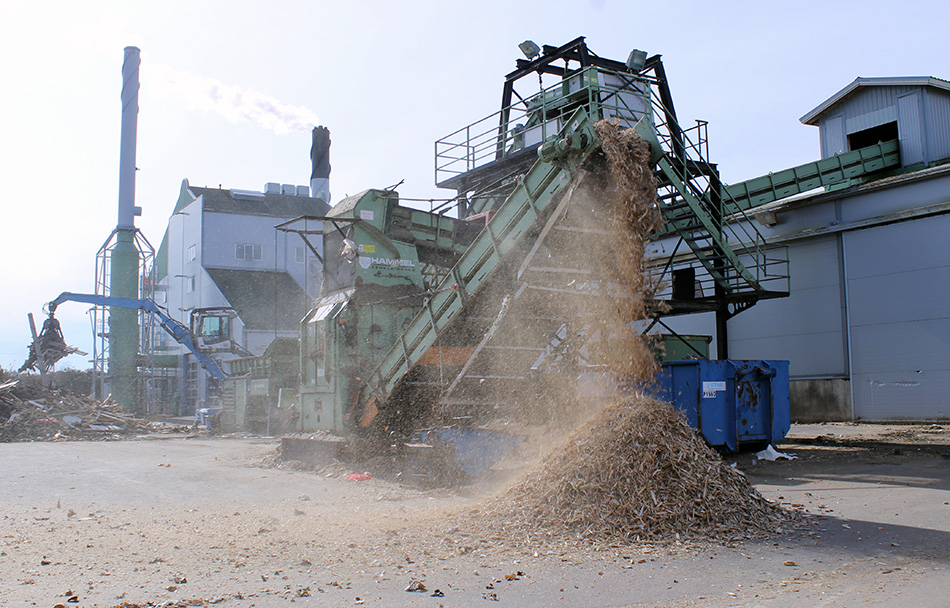 Kokemäen Lämpö 's crusher Investment has paid itself back several times. Ten minutes of production provides the corresponding energy needs of a detached house for one year.
Innovative production technology
Totally, Kokemäen Lämpö has 30 kilometers of its own district heating network. The company's energy production is handled by four biofuel boilers with a combined output of 25 MW. Three biofuel boilers are located at the main plant and the fourth at a potato flour factory. The company also has a biofuel terminal at its main facility, where wood is received in various forms. Wood materials are crushed, chipped and then dried for storage or directly burned.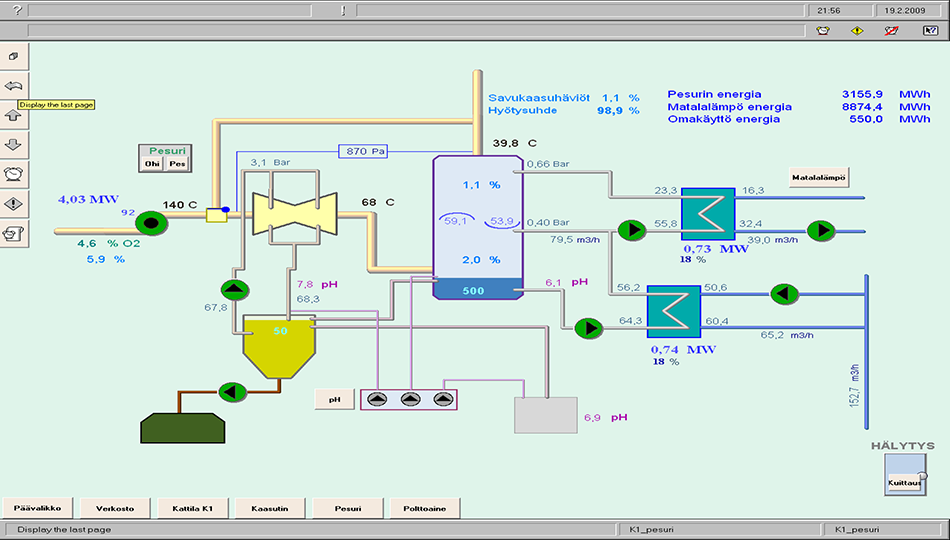 A process diagram showing the washing and recovery of flue gas at the main plant.
The speciality of the central heating plant is a two-stage flue gas scrubber, where the latter stage is utilized in the plant's own fuel production. Thus, the flue gas temperature can be lowered to about 40 degrees and in winter even closer to 20 degrees when the glycolic circuit return is sometimes below zero.
Glycol from the latter stage is circulated to the in-house built fuel dryer fan. This way, the fuel from the crusher is immediately dried to optimum moisture content (≤25%), which protects the fuel for longer storage despite the weather. As a result, the fuel does not carry extra weight to later stages of production and is immediately ready for burning if needed. In this case, it also returns good efficiency.
In solid fuel boilers, 70% of disturbances are usually associated with wet or frozen fuel. Thanks to the two-stage flue gas scrubber, Kokemäen Lämpö has virtually no fuel-related disturbances in their transport lines.
Industry served by district heat
Kokemäen Lämpö's fourth biofuel boiler is situated at the Finnamyl potato starch factory. The company manufactures, packs and sells potato starch to the food and paper industry. Finnamyl Oy was established in 1999, but the factory has been operating at Kokemäki since 1942.
Cooperation with Kokemäen Lämpö has played a significant role in the development and expansion of Finnamyl's operations. In 2014, a multipurpose energy plant was built in the potato plant, producing district and low-grade heat, hot water, hot oil and steam.
| | |
| --- | --- |
| District heat | 80–115 °C |
| Low-grade heat | 25–50 °C |
| Hot water  | 110–125 °C |
| Hot oil | 240–300 °C |
| Steam | 180 °C |
Circular economy thinking is also reflected in the new biofuelled plant, as the potato plant boiler (as well as one of the main boilers) was purchased second hand. Necessary heating boiler refurbishment was made by KPA Unicon. However, for example, some of the plant valves are still the original Vexve valves. High-quality products serve heat plants well, throughout their life cycle and beyond.
Kokemäen Lämpö production manager Heikki Veko and Vexve product manager Pertti Kulma examining Vexve balancing and ball valves in the multipurpose plant, some of which are 30 years old.
Part of the district heat generated by the multipurpose plant is directed to the district heating network of Kokemäen Lämpö, but most of the energy produced by the plant is used in Finnamyl's production processes. Ensuring steam energy was particularly important for Finnamyl's production. Technical consultants AX-Prosessit helped in particular with the design of steam and hot oil production. Steam is made in the plant with hot oil and is produced by a Vahterus heat exchanger and solid fuel boiler. There are two spare power units (KW-Set) in the plant, one for the Finnamyl processes alone.
The development of the multipurpose plant in the potato starch factory will continue. Changes are planned for both the main plant and the potato factory flue gas scrubbers to recover the last remnants of energy from flue gases. These changes are also going to be carried out with circular economy thinking in mind
For more information:
Kokemäen Lämpö
Production Manager Heikki Veko
Tel. +358 40 750 7840
i;o.f;amp;enl;ema;kok;ko/;.ve;kki;hei
Vexve
Product Manager Pertti Kulma
Tel. +358 10 7340 704
m;.co;xve;/ve;lma;.ku;tti;per
News archive 2018
16.07.2018
Vexve has launched a local production unit in Russia
09.07.2018
Customers rely on Vexve's quality and delivery capability
23.04.2018
Amos Rex Museum of Art warmed and cooled with Finnish energy know-how
22.03.2018
Vexve, now a co-operation member of Finnish HVAC Association
16.03.2018
New appointments in Vexve
24.01.2018
Vexve becomes a member of SweHeat & Cooling
18.01.2018
Hydrox™- product family expands with a small valve actuator
18.01.2018
Vexve's products guarantee a reliable and secure valve operation in demanding underground networks
11.01.2018
Appointment news in Vexve
News archive 2017
20.12.2017
Merry Christmas
13.12.2017
Solar heat evens out peak loads and increases the competitiveness of district heating companies
12.12.2017
Vexve becomes member of Estonian Power and Heat Association
11.12.2017
Vexve the first valve manufacturer to receive Euroheat & Power certification for steel district heating valves
28.11.2017
Appointment news
16.11.2017
Energy distribution with innovative and environmentally friendly solutions
10.11.2017
New appointments in Vexve
17.10.2017
Vexve granted the Achievers 2017 certificate
27.09.2017
District heating companies reinforce the attractiveness of municipalities
10.08.2017
New appointments in Vexve
03.08.2017
The new TERMOVAR loading unit has been well received
12.06.2017
Vexve presents at the Astana EXPO 2017 world fair
09.06.2017
Vexve's products support a Swedish municipality's energy goals and sustainable development
16.05.2017
New appointments in Vexve
05.05.2017
Vexve introduces underground solutions at Project Qatar trade fair
04.05.2017
Energy solutions for future smart cities
04.05.2017
Vexve joins FIBS Corporate Responsibility Network and Diversity Charter Finland
07.04.2017
Vexve underground valve control solutions arouse interest at international district energy conference
03.04.2017
Jussi Vanhanen appointed new CEO of Vexve
02.03.2017
Commissioning inspection: Lusail Development Project
27.02.2017
President of Finland visited Vexve's stand at the "Rekrytori" employment fair
23.02.2017
Vexve at the Ecobuild trade fair in London
22.02.2017
Vexve accepted as a member of the Finnish Energy Club
20.02.2017
New appointments in Vexve Oy
16.02.2017
Vexve, now a member of IDEA
06.02.2017
New appointments in Vexve Oy
30.01.2017
Vexve to present trends and innovations in the district energy sector at the Pumps & Valves Show in Switzerland
27.01.2017
Vexve's summer job search has begun
05.01.2017
Vexve, now a member of EHP and DHC+
News archive 2016
21.12.2016
Happy Holidays!
14.12.2016
New appointments in Vexve OY
24.11.2016
Vexve participated in the Energy 2016 event in October
07.11.2016
Vexve and Green Net Finland cooperation off to a speedy start
03.11.2016
The future is today - SMACC-week addresses district energy challenges
18.10.2016
Vexve, now a member of Green Net Finland
14.10.2016
Vexve participates in the Finnish Business in Moscow event on October 20
12.10.2016
Vexve will participate at the Energy 2016 trade fair from October 25 to 27
11.10.2016
Vexve congratulates cooperation partner! SASKY awarded for best practices in vocational education and training competition
10.10.2016
District heating operators deepen cooperation in the heating market
04.10.2016
Intelligent encounters at SMACC Week, October 10-13, 2016
04.10.2016
Vexve participates seminars in Kyrgyzstan and Kazakhstan
30.09.2016
Vexve is to apply Big Data analysis to accelerate growth – today's bytes define tomorrow's business
30.09.2016
Vexve participates FinnBuild 2016
23.09.2016
Appointment News
19.09.2016
Vexve with Team Finland in Egypt
02.09.2016
Hydraulic control solutions for district heating valves impresses operators
22.08.2016
Finnish district energy experts meet in Mikkeli, Finland on August 24 & 25, 2016
17.08.2016
New appointments in Vexve Oy
09.08.2016
Vexve serves the growing district heating market in Serbia
09.08.2016
Vexve, now a member of ukDEA
08.07.2016
Vexve Sastamala's factory hall becomes a concert hall on July 22
30.06.2016
Accelerated growth for Vexve Oy – DevCo Partners Oy becomes owner as of 30 June 2016
21.06.2016
Vexve is strongly committed to market development in the Middle East
06.06.2016
Vexve HVAC valve products come to MagiCloud
24.05.2016
Long term cooperation calls for commitment
24.05.2016
Vexve meets with long-term partners at the Aqua-Therm Kiyv 2016 Fair
12.05.2016
New appointments in Vexve Oy
21.04.2016
Vexve HVAC valve products come to MagiCAD
15.04.2016
Join us at the En+Eff 19.-21. April 2016!
15.04.2016
New appointments in Vexve Oy
15.03.2016
Vexve involved in Vaasa Gas Exchange event 17th of March 2016
26.02.2016
Vexve and Naval valves are now also in convenient product packaging!
22.02.2016
The Mantova district heating company selects Vexve butterfly valves and Hydrox hydraulic control solutions for new district heating distribution line (DN400).
01.02.2016
New appointments in Vexve Oy
News archive 2015
19.11.2015
Tyumen wants to ensure trouble-free energy distribution
17.11.2015
A properly balanced pipe network ensures stable indoor temperatures
07.10.2015
Appointment news
28.09.2015
The valves to be installed in the St Petersburg gas network must pass strict quality assurance
23.08.2015
New appointments
02.06.2015
Vexve has represented Finland in the international European Business Awards competition
26.05.2015
Appointment in Vexve Oy
25.05.2015
Genuinely intelligent control solutions take account of the needs of users and building life-cycle costs
13.05.2015
New appointments in Vexve OY
23.03.2015
Finnish energy expertise and cleantech products are trusted in Beijing`s District Heating Projects
18.03.2015
Thank you for the ISH 2015!
13.03.2015
A strong start to 2015 with Vexve Oy
03.03.2015
New appointments in Vexve Oy
16.02.2015
New valve solutions for growing Middle-East district cooling networks
06.02.2015
At -30°C a District Heating network must work – Finnish know-how leading the way in the UK
08.01.2015
Vexve Oy is competing for the National 'Public' Champion for Finland in the European Business Awards.
07.01.2015
Welcome to meet us at the ISH 2015 exhibition
News archive 2014
24.11.2014
Vexve awarded in European Business Awards competition
10.11.2014
Vexve senior management change - company to increase management team effectiveness
22.08.2014
Vexve butterfly valves lead the market
12.08.2014
Welcome to the renewed vexve.com website!
02.06.2014
Vexve brings a hydraulic actuator to the market
31.03.2014
A strong valve family born in Finland
05.03.2014
The Internationalisation Award of the President of the Republic goes to Vexve, Supercell and LEDil
24.01.2014
Vexve ball valves gain new gas certification in Russia
News archive 2013
10.10.2013
Vexve receives honourable mention in Teknologiakasvaja 2013 competition
08.07.2013
Vexve making a strong move on the Arabian Peninsula