---
Solar heat evens out peak loads and increases the competitiveness of district heating companies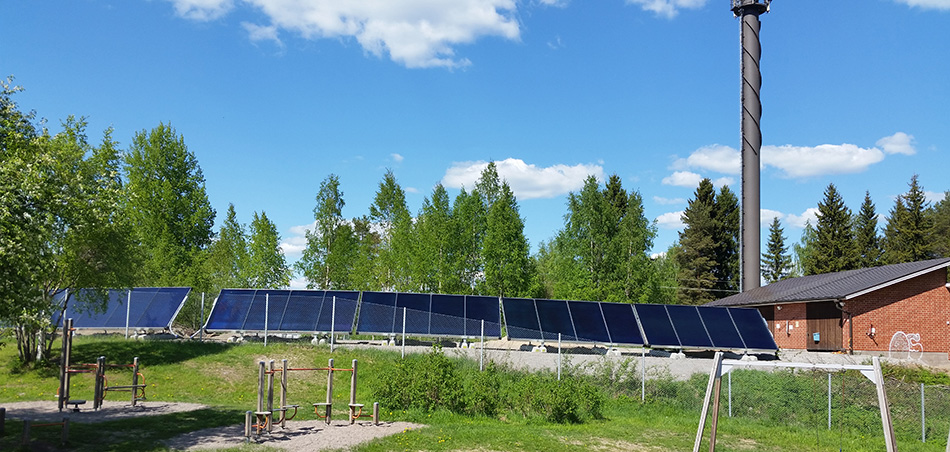 Vexve and Savosolar products are part of an award-winning hybrid energy system where solar heat is used to cut consumption surges at the bioenergy plant. The objective of the South Savo Energy Company (Etäla-Savon Energia) pilot project is to promote the use of renewable energy, improve the efficiency of the heating plant and increase the price competitiveness of district heating.
Etelä-Savon Energia (ESE), which operates in eastern Finland, is a highly efficient energy-supplier and producer. ESE already meets the requirements of the European Commission for the amount of renewable energy sources in energy production. Generating electricity, district heat and industrial steam for the town of Mikkeli, urban area and local industry, ESE is constantly looking for new and modern ways to generate energy.
Four years ago, the municipality of Ristiina with a population of 5000 joined the Mikkeli subregion. The ownership of Ristiina's district heating plant transferred to ESE, who started the modernization of the area's energy production. Previously most of Ristiina's households warmed their homes with oil or electricity. With the completion of a two-kilometer long district heating network in the spring of 2017, Ristiina's urban area households and municipal buildings are now heated by two wood chip fired energy plants.
"Because we used the best modern materials and methods in building Ristiina's new district heating network, the heat loss is really small. That's why Ristiina was also an excellent choice for our new pilot project," says Auli Haapiainen-Liikanen, ESE's District Heating Manager.
The aim of the Ristiina Pilot Project is to reduce the load on the bioenergy plant during the summer season, especially during the region's peak demand periods, and to promote the use of renewable energy. Installation of solar collectors started as soon as the district heating network of Ristiina was completed.
Extensive district heating infrastructure supports solar energy utilization
If we go somewhat back in time, the idea of using solar heat originally came from the company's electricity side, where the use of solar energy had already delivered positive experiences. The idea began to mature seriously towards implementation when ESE won a competition for the daily services of a researcher from the Technical Research Centre of Finland (VTT).
The Technology Research Center VTT has conducted extensive research on both future district heating networks and the utilization of hybrid systems as part of energy production. VTT helped ESE by making a dynamic model of the district heating network with solar and bioenergy for the Ristiina pilot.
"Modeling can be used to find out how various renewable energy sources fit into the district heating network, how to run the plant and how much energy storage is needed," explains VTT Researcher Elina Hakkarainen.
Hakkarainen sees that Finland's extensive district heating infrastructure has a big potential for the large-scale utilization of solar energy. According to her, Finnish district heating companies are also actively interested in network development and innovative solutions.
"Hybrid power systems can help reduce heating plant fuel consumption and thereby reduce emissions. Pilot projects such as Ristiina are important in order to move towards larger implementations," adds Hakkarainen.
As well as modeling, additional experience was sought from Denmark, where the use of large solar collector systems has grown strongly in recent years. Along the way, a group of representatives from ESE, Sundial, VTT and Vexve became acquainted with the solar collector systems delivered by Savosolar to the Løgumkloster and Jelling Varmeværk district heating plants. These multiple source energy production heating plants each have over 15,000 m² solar thermal collector fields. Solar heat already covers about 20% of the annual district heating demand, but with system expansion and solar energy storage, their future goal is to reach up to 50-60%.
The Ristiina pilot is based on Finnish know-how
ESE trusts local suppliers for both their fuel purchases and other operations. For this reason, they also found it important to utilize Finnish expertise and high-quality products in the Ristiina project.
"We want to make long-lasting networks and heating solutions, therefore the products we use should be in line with that philosophy," says Auli Haapiainen-Liikanen, ESE's District Heating Manager.
The solar thermal pilot system was delivered by Savosolar, also located in Mikkeli. Savo-Solar collectors are used around the world and the company's flat collectors are the most powerful in the world. (Solar Keymark -certification).
"Our solar collectors are 10-20% more efficient than most competing collectors on the market, especially because of our absorber and coating technology. Using our technology we can make better use of solar radiation and, with the absorber structure, heat energy is transferred more efficiently to the heat transfer fluid," says Miika Kilgast, responsible for Savosolar's sales in Finland.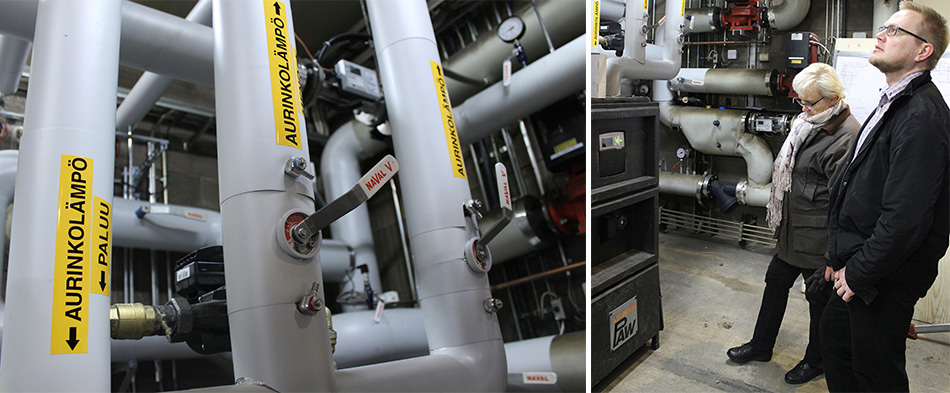 Picture: South Savo Energy Company's District Heating Manager Auli Haapiainen-Liikanen and Vexve's Sales Manager Marko Nyrhinen observing Ristiina's solar thermal system. 
Solar collectors are the most visible part of Ristiina's solar thermal system, but the functional entity is built of many parts. ESE considered it important that even the smallest and partially hidden parts of the system were accurately defined in the planning of the Ristiina system.
"We understood the importance of this just recently. If for example, we do not specify exactly what products end up inside the district heating elements, there is a risk of low-quality components entering the system. We want to use products that we know and trust," says Haapiainen-Liikanen.
One of the reasons for choosing Vexve valves for the pilot project was ESE's good experience of the company's products and Vexve's own first-rate quality control. Naval-brand shut off and balancing valves manufactured by Vexve were selected to serve the solar thermal system throughout its life cycle.
Storage tank allows the use of solar heat during consumption peaks
The installation of the Ristiina solar thermal collector system was fully covered by solar thermal specialists Sundial Finland. The solar collector field of 120 m², consisting of eight solar collectors, started to rise in connection with Ristiina's School Center heating plant in the spring of 2017. According to Jarno Kuokkanen, CEO of Sundial, Ristiina's solar thermal collector system can be expected to operate for up to 30 years.
"A solar collector system like Ristiina's has minimal maintenance and operating expenses. The system's investment is mainly focused on the upfront cost of the acquisition," explains Kuokkanen about the positive aspects of solar heat.
The installation of the collectors carried out in Ristiina was exceptional because of the concrete base. Typically, solar collectors are installed on steel piles driven into the ground.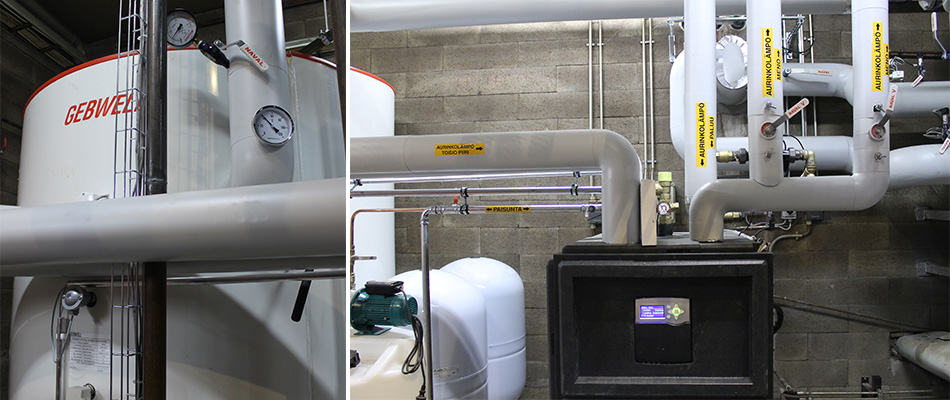 Picture: Solar thermal system fitted well to the same premises as existing bioenergy plant. On the left the storage thank and on the right the control center of the solar thermal system. 
Collected solar energy is transferred via heat transfer fluid through an insulated pipeline to the bioenergy plant in the School Center, where a 3000-liter storage tank, pumping unit and control center are located. The compact system fitted well to the existing plant premises with no need for a separate building. 
Thanks to the storage tank, solar heat can be driven to the district heating network when needed. In particular, the purpose is to cover the peak hour energy requirements of the of the nearby nursing home and health center during the summer season, so that the heating system itself can be run with better efficiency and even load. According to the calculations, however, the energy is more than sufficient in the summer on its own.
"In the summer, much more energy comes from the sun than required during peak hours for hot water heating. The advantage of the storage tank is that it allows the heat to be discharged to the network itself. The Ristiina district heating network volume is 3.5 times that of the storage tank. The district heating network can be used in a way like an accumulator," says Haapiainen-Liikanen.
Inspirational hybrid energy system reaps success
Ristiina's hybrid energy system has been in use for only six months but has already gained an award at European level in the Celsius City competition's "Inspiring Solution" category.
Even though optimization of the system is still underway, encouraging results can already be seen. The transition from heating oil to the hybrid power system will save approximately 290,000 liters of oil during the first year. Solar heat accounts for up to 8% of this. The savings in fuel costs contribute to the competitiveness of district heating prices and in addition, reduces greenhouse gas emissions caused by heating oil.
In the future, Ristiina's solar thermal collector system aims to be automated. Additionally, there is still room for up to 50% more solar collectors at the school's heating plant site. Auli Haapiainen-Liikanen also does not rule out the possibility of using solar heat even more widely in the Mikkeli region in the future.
"The installation of large solar thermal collector systems in the city center has its own challenges, but I see the modern energy company has a duty to use new and innovative solutions that support sustainable development," decides Haapiainen-Liikanen.
Utilization of solar thermal energy in Europe

The benefits of solar energy include environmental friendliness, ease of use, silence (for example compared to wind power) and connectivity to all heating modes. Despite this, solar energy is still a little used for heating in Europe. In 2012, only 1% of solar collectors were combined with district heating systems. In many European countries, increasing the use of solar heat is still largely dependent on state subsidies and regulations. In proportion to population, Europe's most active solar heat users are Austria, Greece, Germany and Denmark.

Especially in southern and central Europe solar heat can be utilized throughout the year, but solar heat can also be used in the northernmost countries with the right solutions. For example, the annual total solar radiation in southern and western Finland is of the same magnitude as Northern Germany. In northern Europe however, the peak of solar energy production is more concentrated in the summer season.

At best, solar heat is suitable for utilization in hybrid energy systems, where different heat sources produce energy supporting each other. The utilization of solar heat in district heating production is profitable, making it possible from spring to autumn to replace more expensive heat production methods.

Sources: SDH, VTT, Finsolar
For more information:
Etelä-Savon Energia
Distric Heating Manager
Auli Haapiainen-Liikanen
i;e.f;/es;nen;ika;-li;nen;iai;aap;i.h;aul
Tel. +358 44 735 3819
Vexve
Sales Manager
Marko Nyrhinen
com;ve.;vex;en/;hin;nyr;ko.;mar
Tel. +358 10 7340 853
News archive 2018
16.07.2018
Vexve has launched a local production unit in Russia
09.07.2018
Customers rely on Vexve's quality and delivery capability
23.04.2018
Amos Rex Museum of Art warmed and cooled with Finnish energy know-how
22.03.2018
Vexve, now a co-operation member of Finnish HVAC Association
16.03.2018
New appointments in Vexve
24.01.2018
Vexve becomes a member of SweHeat & Cooling
18.01.2018
Hydrox™- product family expands with a small valve actuator
18.01.2018
Vexve's products guarantee a reliable and secure valve operation in demanding underground networks
11.01.2018
Appointment news in Vexve
News archive 2017
20.12.2017
Merry Christmas
13.12.2017
Solar heat evens out peak loads and increases the competitiveness of district heating companies
12.12.2017
Vexve becomes member of Estonian Power and Heat Association
11.12.2017
Vexve the first valve manufacturer to receive Euroheat & Power certification for steel district heating valves
28.11.2017
Appointment news
16.11.2017
Energy distribution with innovative and environmentally friendly solutions
10.11.2017
New appointments in Vexve
17.10.2017
Vexve granted the Achievers 2017 certificate
27.09.2017
District heating companies reinforce the attractiveness of municipalities
10.08.2017
New appointments in Vexve
03.08.2017
The new TERMOVAR loading unit has been well received
12.06.2017
Vexve presents at the Astana EXPO 2017 world fair
09.06.2017
Vexve's products support a Swedish municipality's energy goals and sustainable development
16.05.2017
New appointments in Vexve
05.05.2017
Vexve introduces underground solutions at Project Qatar trade fair
04.05.2017
Energy solutions for future smart cities
04.05.2017
Vexve joins FIBS Corporate Responsibility Network and Diversity Charter Finland
07.04.2017
Vexve underground valve control solutions arouse interest at international district energy conference
03.04.2017
Jussi Vanhanen appointed new CEO of Vexve
02.03.2017
Commissioning inspection: Lusail Development Project
27.02.2017
President of Finland visited Vexve's stand at the "Rekrytori" employment fair
23.02.2017
Vexve at the Ecobuild trade fair in London
22.02.2017
Vexve accepted as a member of the Finnish Energy Club
20.02.2017
New appointments in Vexve Oy
16.02.2017
Vexve, now a member of IDEA
06.02.2017
New appointments in Vexve Oy
30.01.2017
Vexve to present trends and innovations in the district energy sector at the Pumps & Valves Show in Switzerland
27.01.2017
Vexve's summer job search has begun
05.01.2017
Vexve, now a member of EHP and DHC+
News archive 2016
21.12.2016
Happy Holidays!
14.12.2016
New appointments in Vexve OY
24.11.2016
Vexve participated in the Energy 2016 event in October
07.11.2016
Vexve and Green Net Finland cooperation off to a speedy start
03.11.2016
The future is today - SMACC-week addresses district energy challenges
18.10.2016
Vexve, now a member of Green Net Finland
14.10.2016
Vexve participates in the Finnish Business in Moscow event on October 20
12.10.2016
Vexve will participate at the Energy 2016 trade fair from October 25 to 27
11.10.2016
Vexve congratulates cooperation partner! SASKY awarded for best practices in vocational education and training competition
10.10.2016
District heating operators deepen cooperation in the heating market
04.10.2016
Intelligent encounters at SMACC Week, October 10-13, 2016
04.10.2016
Vexve participates seminars in Kyrgyzstan and Kazakhstan
30.09.2016
Vexve is to apply Big Data analysis to accelerate growth – today's bytes define tomorrow's business
30.09.2016
Vexve participates FinnBuild 2016
23.09.2016
Appointment News
19.09.2016
Vexve with Team Finland in Egypt
02.09.2016
Hydraulic control solutions for district heating valves impresses operators
22.08.2016
Finnish district energy experts meet in Mikkeli, Finland on August 24 & 25, 2016
17.08.2016
New appointments in Vexve Oy
09.08.2016
Vexve serves the growing district heating market in Serbia
09.08.2016
Vexve, now a member of ukDEA
08.07.2016
Vexve Sastamala's factory hall becomes a concert hall on July 22
30.06.2016
Accelerated growth for Vexve Oy – DevCo Partners Oy becomes owner as of 30 June 2016
21.06.2016
Vexve is strongly committed to market development in the Middle East
06.06.2016
Vexve HVAC valve products come to MagiCloud
24.05.2016
Long term cooperation calls for commitment
24.05.2016
Vexve meets with long-term partners at the Aqua-Therm Kiyv 2016 Fair
12.05.2016
New appointments in Vexve Oy
21.04.2016
Vexve HVAC valve products come to MagiCAD
15.04.2016
Join us at the En+Eff 19.-21. April 2016!
15.04.2016
New appointments in Vexve Oy
15.03.2016
Vexve involved in Vaasa Gas Exchange event 17th of March 2016
26.02.2016
Vexve and Naval valves are now also in convenient product packaging!
22.02.2016
The Mantova district heating company selects Vexve butterfly valves and Hydrox hydraulic control solutions for new district heating distribution line (DN400).
01.02.2016
New appointments in Vexve Oy
News archive 2015
19.11.2015
Tyumen wants to ensure trouble-free energy distribution
17.11.2015
A properly balanced pipe network ensures stable indoor temperatures
07.10.2015
Appointment news
28.09.2015
The valves to be installed in the St Petersburg gas network must pass strict quality assurance
23.08.2015
New appointments
02.06.2015
Vexve has represented Finland in the international European Business Awards competition
26.05.2015
Appointment in Vexve Oy
25.05.2015
Genuinely intelligent control solutions take account of the needs of users and building life-cycle costs
13.05.2015
New appointments in Vexve OY
23.03.2015
Finnish energy expertise and cleantech products are trusted in Beijing`s District Heating Projects
18.03.2015
Thank you for the ISH 2015!
13.03.2015
A strong start to 2015 with Vexve Oy
03.03.2015
New appointments in Vexve Oy
16.02.2015
New valve solutions for growing Middle-East district cooling networks
06.02.2015
At -30°C a District Heating network must work – Finnish know-how leading the way in the UK
08.01.2015
Vexve Oy is competing for the National 'Public' Champion for Finland in the European Business Awards.
07.01.2015
Welcome to meet us at the ISH 2015 exhibition
News archive 2014
24.11.2014
Vexve awarded in European Business Awards competition
10.11.2014
Vexve senior management change - company to increase management team effectiveness
22.08.2014
Vexve butterfly valves lead the market
12.08.2014
Welcome to the renewed vexve.com website!
02.06.2014
Vexve brings a hydraulic actuator to the market
31.03.2014
A strong valve family born in Finland
05.03.2014
The Internationalisation Award of the President of the Republic goes to Vexve, Supercell and LEDil
24.01.2014
Vexve ball valves gain new gas certification in Russia
News archive 2013
10.10.2013
Vexve receives honourable mention in Teknologiakasvaja 2013 competition
08.07.2013
Vexve making a strong move on the Arabian Peninsula