Vexve iSENSE – Smart monitoring solutions for district energy networks
Vexve iSENSE Smart Monitoring Solutions
Vexve iSENSE product family consists of smart monitoring solutions specifically designed for underground district heating and cooling networks. The real-time measurement data provided by iSENSE product family helps to improve network efficiency, provides tools for condition monitoring and enables fast leakage detection. All iSENSE metering solutions are suitable for wireless underground usage. The products are self-powered and can be retrofitted in existing district energy networks.

Vexve iSENSE product family is a modular solution, which consists of three products: iSENSE Opti, iSENSE Pulse and iSENSE Chamber. It is possible to choose only one product or easily combine all products into one unit.
Vexve iSENSE product family
iSENSE OPTI enables the real-time detection of changing temperature and pressure conditions in the underground networks. Areas cooled by high heat loss and unfavorable flow directions can be located in the network and can be adjusted using precise measurement data.
iSENSE PULSE enables fast and precise leakage detection based on pulse technology via Nordic alarm wires. Leakage detection is based on reflections of the pulse and the leakage is located based on the traveling time of the pulse in the wires
iSENSE CHAMBER enables effective online chamber monitoring. Maintenance operations can be effectively directed to the right chambers.
References
Fortum invests in fast leakage detection
Fortum is building a five-kilometre long district heat transmission line from Kivenlahti Espoo to Puolarmetsä. The pipeline will prepare for the construction of a bio-heating plant in Kivenlahti, which will significantly reduce CO² emissions in Espoo.
The new transmission line has internal insulation alarm wires, which are connected to Vexve's iSENSE Pulse leakage monitoring system. The system enables real-time leak detection and precise localization with pulse measurement technology. Leakage detection is based on reflections of the pulse and the leakage is located based on the travelling time of the pulse in the wires. New technologies will continue to be an important part of reliable heat distribution to Espoo's district heating customers also in the future.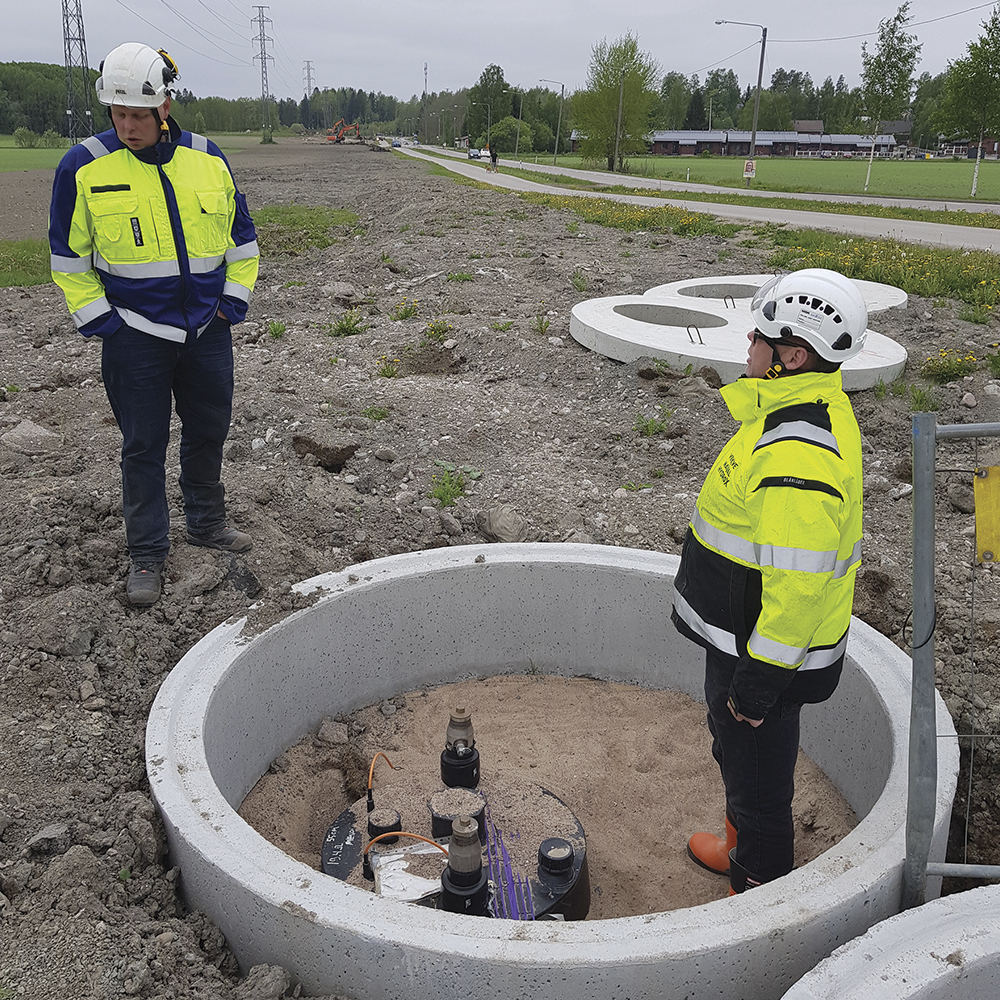 Real-time network information increases network efficiency and reliability in Kajaani
Loiste Lämpö Oy is responsible for district heat distribution in the city of Kajaani. Most of the heat is produced using domestic fuel at Kainuun Voima's (KAVO) cogeneration plant near the centre of Kajaani. The district heating network, which is branched from the plant, is responsible for 70% of Kajaani residents' heat distribution.
One of the DN 200 pipe branch lines from the power plant is equipped with Vexve's iSENSE Opti monitoring system. It enables real-time monitoring of changing pressure and temperature data for critical sections of the underground network. The data ensures optimal heat distribution to district heating customers according to seasonal and daily changes. In the coming years, monitoring is also planned for other critical branches leaving from the power plant.