<div class="some-share d-flex flex-wrap"> <a target="_blank" class="share-item" href="https://www.linkedin.com/shareArticle?mini=true&amp;amp;url=https%3A%2F%2Fwww.vexve.com%2Fen%2Fnews-events%2Fnews%2Fthe-internationalisation-award-of-the-president-of-the-republic-goes-to-vexve-supercell-and-ledil%2F"> <i class="icon icon-icon-some-linkedin-colored" aria-hidden="true"><svg xmlns="http://www.w3.org/2000/svg" viewBox="0 0 448 512"><path fill="#007BB6" d="M416 32H31.9C14.3 32 0 46.5 0 64.3v383.4C0 465.5 14.3 480 31.9 480H416c17.6 0 32-14.5 32-32.3V64.3c0-17.8-14.4-32.3-32-32.3zM135.4 416H69V202.2h66.5V416zm-33.2-243c-21.3 0-38.5-17.3-38.5-38.5S80.9 96 102.2 96c21.2 0 38.5 17.3 38.5 38.5 0 21.3-17.2 38.5-38.5 38.5zm282.1 243h-66.4V312c0-24.8-.5-56.7-34.5-56.7-34.6 0-39.9 27-39.9 54.9V416h-66.4V202.2h63.7v29.2h.9c8.9-16.8 30.6-34.5 62.9-34.5 67.2 0 79.7 44.3 79.7 101.9V416z"/></svg></i> </a> <a target="_blank" class="share-item" href="https://twitter.com/share?url=https%3A%2F%2Fwww.vexve.com%2Fen%2Fnews-events%2Fnews%2Fthe-internationalisation-award-of-the-president-of-the-republic-goes-to-vexve-supercell-and-ledil%2F"> <i class="icon icon-icon-some-twitter-square-colored" aria-hidden="true"><svg xmlns="http://www.w3.org/2000/svg" viewBox="0 0 448 512"><path fill="#5DA9DD" d="M400 32H48C21.5 32 0 53.5 0 80v352c0 26.5 21.5 48 48 48h352c26.5 0 48-21.5 48-48V80c0-26.5-21.5-48-48-48zm-48.9 158.8c.2 2.8.2 5.7.2 8.5 0 86.7-66 186.6-186.6 186.6-37.2 0-71.7-10.8-100.7-29.4 5.3.6 10.4.8 15.8.8 30.7 0 58.9-10.4 81.4-28-28.8-.6-53-19.5-61.3-45.5 10.1 1.5 19.2 1.5 29.6-1.2-30-6.1-52.5-32.5-52.5-64.4v-.8c8.7 4.9 18.9 7.9 29.6 8.3a65.447 65.447 0 0 1-29.2-54.6c0-12.2 3.2-23.4 8.9-33.1 32.3 39.8 80.8 65.8 135.2 68.6-9.3-44.5 24-80.6 64-80.6 18.9 0 35.9 7.9 47.9 20.7 14.8-2.8 29-8.3 41.6-15.8-4.9 15.2-15.2 28-28.8 36.1 13.2-1.4 26-5.1 37.8-10.2-8.9 13.1-20.1 24.7-32.9 34z"/></svg></i> </a> <a target="_blank" class="share-item" href="https://www.facebook.com/sharer.php?u=https%3A%2F%2Fwww.vexve.com%2Fen%2Fnews-events%2Fnews%2Fthe-internationalisation-award-of-the-president-of-the-republic-goes-to-vexve-supercell-and-ledil%2F"> <i class="icon icon-icon-some-facebook-colored" aria-hidden="true"><svg xmlns="http://www.w3.org/2000/svg" viewBox="0 0 448 512"><path fill="#3C5A99" d="M448 56.7v398.5c0 13.7-11.1 24.7-24.7 24.7H309.1V306.5h58.2l8.7-67.6h-67v-43.2c0-19.6 5.4-32.9 33.5-32.9h35.8v-60.5c-6.2-.8-27.4-2.7-52.2-2.7-51.6 0-87 31.5-87 89.4v49.9h-58.4v67.6h58.4V480H24.7C11.1 480 0 468.9 0 455.3V56.7C0 43.1 11.1 32 24.7 32h398.5c13.7 0 24.8 11.1 24.8 24.7z"/></svg></i> </a> </div>
« News and Events
The Internationalisation Award of the President of the Republic goes to Vexve, Supercell and LEDil
5.3.2014 / Responsibility / Press release
The President of the Republic of Finland, Sauli Niinistö, has awarded the 2013 internalisation awards  to game company Supercell, heating valve producer Vexve and LED lighting optics specialist LEDil.
'The Internationalisation Award of the President of the Republic is granted as recognition of the accomplishments of Finnish companies and their personnel. The companies' success is based on top expertise, the ability to seize opportunity in the changing markets and a willingness to take risks. The welfare of Finland is increasingly based on SMEs' ability to achieve international growth and replicate their successes. This year's winners lead the way for dozens of other growth enterprises,' says Finpro CEO Kari Häyrinen.
Finpro annually collects a long list of candidates for the award from its member and stakeholder network. Having assessed the proposals, the Finpro Board of Directors makes a proposal to the president together with the Association for Finnish Work. The President of the Republic decides to whom the award is granted. The awards, to be handed out today in Helsinki, are donated by the Finnish Fair Corporation. The award was granted for the 46th time.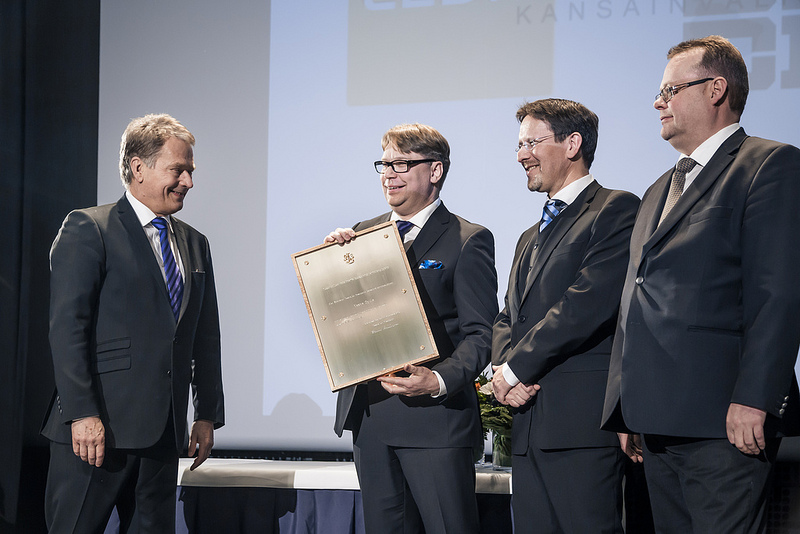 Vexve keeps millions of homes warm
Vexve is a family enterprise from Sastamala. The company produces thermal valves for district heating to keep hundreds of millions of homes warm and comfortable. China and Russia are the largest of the company's 30 export countries. Vexve's Recent openings include district refrigeration valves, sold in the Middle East, among other areas.
'In the former Soviet Union, we have spent two decades modernising obsolete district heating systems. The demand for district refrigeration in the Gulf of Persia has grown in recent years. Our staff growth histories have enabled our international success. This award is recognition of their excellent work,' says Vexve CEO Lasse Mannola.
The company has decided to swim against the current of mainstream industry by centralising all production in Finland. The Sastamala and Liperi factories produce  approximately half a  million valves each year. Approximately 90% of the products are exported. Vexve has steadily continued to grow over a period of 20 years by constantly expanding its product selection and conquering new markets. The company has expanded the scope of its operations to include water measurement solutions and other energy‑saving solutions in addition to valves.
For more information, please contact:
Vexve
Lasse Mannola, CEO, o;e.c;exv;a/v;nol;man;se.;lasm, +358 50 360 8850
Finpro
Kari Häyrinen, CEO, [email protected], +358 40 343 3464
Outi Torniainen, SVP, Communications and Marketing, i;o.f;npr;/fi;nen;iai;orn;i.t;out, +358 40 512 1375
The Association for Finnish Work
Tero Lausala, CEO, The Association for Finnish Work, fi;pu.;lip;ain;/av;ala;aus;o.l;ter, +358 50 407 2623
The Finnish Fair Corporation
Christer Haglund, CEO of the Finnish Fair Corporation, om;s.c;sku;uke;ess;d/m;lun;hag;er.;ist;chr, +358 40 555 1007
Finpro is a national organisation boosting the internationalisation of Finnish companies and their exports and promoting international investment in Finland. Finpro supports its clients' international growth and success by enabling them to be in the right markets at the right time with competitive products, services and concepts. Finpro's networking activities benefit its clients and partners both locally and internationally. Our 350 professionals work in 69 offices in almost 50 countries. In addition to carrying out assignments for companies, Finpro manages several major international projects, such as Cleantech Finland and Future Learning Finland.
www.finpro.fi
The Finnish Fair Corporation annually allocates EUR 400,000 worth of awards, scholarships and grants. The most renowned of the foundation's awards are the Internationalisation Award of the President of the Republic and the Kaj Franck design award.
www.messukeskus.com
The Association for Finnish work is an expert organisation tasked with promoting the profile of Finnish work. The association manages the trademarks and online services designed to promote Finnish know-how and promotes innovation and entrepreneurialism.  Founded in 1912, the association has more than 2,300 members.
www.avainlippu.fi