iSENSE Flow – For measuring changing flow and network conditions
iSENSE Flow is a wireless monitoring solution for measuring changing flow and network conditions. The measurement data produced by iSENSE Flow supports energy companies in the network optimization, monitoring of regional heat consumption, and validation of computational models.
Including flow and temperature measurement:
Suitable for detecting changing flow trends
The flow measurement is based on a calorimetric sensor that measures the flow rate
Sensor max. temperature 125 °C
Measurement range: 0-400 cm/s
Volumetric flow rate is determined by the flow rate and surface area
Sensor accuracy 2 % in laminar flow
Temperature measurement range: -25–125 °C
Flow measuring device:
One equipment to collect and transfer all the measured data
Sends information to iSENSE Online cloud service every 15 minutes
Data transfer method: LoRaWAN network
Durable and easy attachment to the wall of the chamber with DIN rail
Designed for demanding underground conditions
Includes wireless LoRaWAN transmitter and external antenna
Ambient temperature range: -20 - +50 °C
Device dimensions:160 x 240 x 90 mm
Power supply: batteries 8 pcs D 3,6 V
IP rating: IP67
Data transmission
iSENSE smart monitoring product family uses the LoRaWAN data transmission network for data transfer. For those areas where there is no existing LoRaWAN network coverage, the network can be built regionally by the base station. 

Benefits of LoRaWAN communication network for use in district energy networks:
wireless
energy efficient
good underground penetration
possibility of two-way communication
easy deployment in LoRaWAN coverage areas
Cloud service
Real-time monitoring of iSENSE monitoring solutions is done through the iSENSE Online cloud service. Cloud service is available from all devices, anytime, anywhere, with SSL-protected login.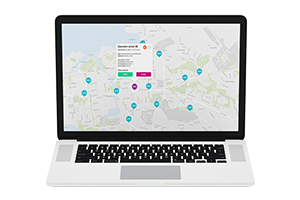 Services
Commissioning of the system and training is done by Vexve experts.
Measurement and reading


The system is real-time, remote, reliable and accurate. We take care of the correctness of the readings and the transfer of data to the cloud service.
Service and maintenance
We maintain a user-friendly interface and help with the interface solutions related to your system.
Our service organization ensures that the system is always up-to-date and in working order and that the components are of the latest technology.
Technical documentation for the product
Brochures
Efficiency and reliability for district energy networks
iSENSE Flow datasheet
iSENSE Smart monitoring solutions